The Southern California city of Lake Elsinore was overwhelmed by the power of the poppies.
About 150,000 people over one weekend in March flocked to see the year's rain-fed flaming orange patches of poppies lighting up the hillsides near the city of about 60,000 residents, about a 90-minute drive from either San Diego or Los Angeles.
Interstate 15 the main thoroughfare and connection to the massive LA area was a parking lot. People fainted in the heat; a dog romping through the fields was bitten by a rattlesnake.
The once a decade event was expected due to the wet winter and warm temperatures that stay above freezing.  
One strange factor about this year's crowds was the impact of Instagram. As LA is home to many many IG influencers and wannabe IG influencers and Lake Elsinore being easily accessible via an hour or two drive, the beautiful photography and viral nature of the event certainly made this year's poppy bloom something to be remembered.  Another aspect is certainly the nature of the bright colors being instantly IG worthy.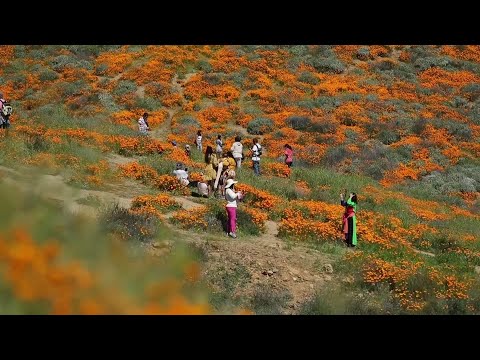 ---